Back to Historic Hwy 49
---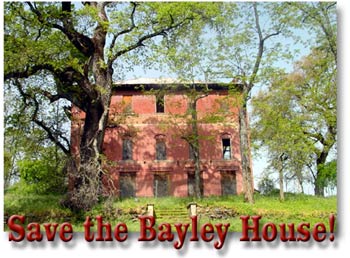 Click on logo above to visit the Bayley House website
Rescue Efforts to
Save the Bayley House
What can you do? Why should you? Efforts have been underway for many years to restore the Bayley House to its original glory. But raising the funds proves to be a difficult task since the structure will take a considerable sum to rebuild and furnish it as a living history site.

Early in 1977 the firm of Alexander & Baldwin donated the Old Bayley House and its surrounding grounds of 10 acres to El Dorado County as a gift, with the expectation that it would be restored to accurately reflect the era in which it was built, with a use that is complimentary to its historical background. The original County plan for the Bayley House called for the structure to be converted into a bed and breakfast inn or similar attraction.

In 1980 a developer began renovating the building, but after five years of excavating a trench along the rock foundation, he lost a loan and abandoned the project. The renovation attempt left the house without balconies, windows or doors, and weakened walls and cracks in the already fragile brick facade. The County sold the Bayley House in 1989 to the Georgetown Divide Recreation District for $1.

What Can You Do?
All those wishing to donate funds, equipment, supplies, and/or labor are asked to either:
Make checks payable to "GDRD Bayley House Preservation Fund" and send them to: Georgetown Divide Recreation District, 2968 Hwy. 49, Cool, CA 95614
Or contact the District at (530) 333-4000 for assistance.
Your help is greatly appreciated! So are your comments, questions and suggestions. Please contact us! Visit the Bayley House website at: www.bayleyhouse.org