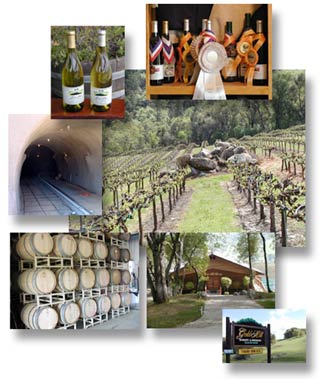 530.626.6522
5660 Vineyard Ln., Placerville, Ca. 95667
www.goldhillvineyard.com
goldhill@cwnet.com
Gold Hill Vineyard & Brewery
Gold Hill was founded in 1980 by Hank Battjes. After retiring in the 1990"s, Hank went into the wine business full time with his 50-acre Gold Hill Vineyards. The property offers spectacular views of steep-sloping vineyards stretching to the American River canyon. In addition to the vineyards, a beautiful scenic setting for events and ample indoor facilities were built, both of which are popular sites for weddings, receptions and banquets. And now when you visit the tasting room, you can sample some beer from the Gold Hill Brewery. Choose from Pale Ale, Red Ale, Stout Ale, Scotch Ale, and Honey Porter all available in old-fashioned brown glass jugs with ceramic caps.
Gold Hill Vineyard has been producing gold medal winning Bordeaux style reds and Chardonnay since opening in 1985. Gold Hill's 4,000 square foot barrel room produces 2,500 cases of award winning wines annually. A visit to the Barrel Cave is a must. Located only one mile from the historic gold mining town of Coloma and Sutter's Mill, the winery is open Thursday through Sunday from 10:00 AM until 5:00 PM. year-round and by appointment. Picnics, weddings and private parties are welcome.