| | |
| --- | --- |
| | The cabin of Mark Twain and Bret Harte, where Twain wrote "The Celebrated Jumping Frog of Calaveras County" The cabin is located on Jackass Hill just outside of Sonora, near Columbia. |
It was in 1806 that explorer Gabriel Moraga's expedition first entered the foothills home to the Mi-Wuks and discovered the Stanislaus River. In 1841 The Bidwell - Bartelson party summits the Sierra to enter the area now known as Tuolumne County. Included in the party are Nancy Kelsy and her baby the first white American females to cross the rugged pass.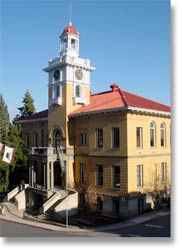 It is likely that if James Marshall had not discovered gold in the tail race of Sutter's Mill someone else would have, within days, claimed the tittle of "The first to discover Gold in California." Up and down the entire length of what is now Hwy 49 it seems someone was picking up or stumbling over a nugget of gold, where in a new town would spring up overnight. Sonora's story is no different and was quick to join the ranks of Gold Discovery sites in California soon after Marshall's find.
In May of 1848 a group of Native Americans working for Charles M. Weber discovered gold along the Stanislaus River. Then in July of 1848, Benjamin Wood, James Savage and company discovered gold in Wood's Creek near Jamestown. Within two years the population of Tuolumne County had grown to nearly 20,000 people; miners searching for gold and merchants looking for a way to profit from those seeking gold.
The Mi-Wuk Indians were first to call the lush, rolling oak covered foothills near the Stanislaus River their home. Their once tranquil surroundings, were quickly transformed into a gold rush town by miners, pioneers, loggers and later with the introduction of the railroad. On February 18, 1850 the California legislature established Tuolumne County, and on May 1, 1851 incorporated the city of Sonora.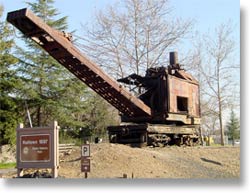 Before and after the Civil War, the area suffered a depression, with a mass departure of the counties population. However, a second Gold Rush started on or around January of 1870 marked by the incorporation of the Guild Mining Company. This resurgence of mining was due to the impressive successes of the hard rock and hydraulic mining operations
Through the late 1800's until 1925 when the Melones dam and powerhouse were built, the area transformed from the rough and ready mining town it was in the mid 1800's to a significant California city who's prospering industries included lumber, farming, and the railroad. Sonora had electric power by 1892 and paved roads by 1922.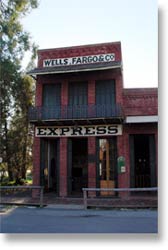 To those of you traveling to this area for the first time, truly the best way to learn and enjoy the rich history of Tuolumne County is to visit the two state historic parks and museums located just outside Sonora. The Columbia State Historic Park, known as the best preserved Gold Rush town in California, and Railtown 1897 State Historic Park.