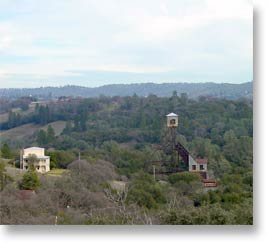 Jackson, the city that produced more than half the gold pulled from the Mother Lode, home to the deepest mines on the continent, the Argonaut and the Kennedy both in excess of 5,000 feet deep, is the largest city in the historically rich and beautiful wine country of Amador County.
Once the richest mining area in the Mother Lode, today Jackson's main industry is tourism. Jackson also has ties to the lumber industry and wineries of Amador County. The area's rolling foothills are checkered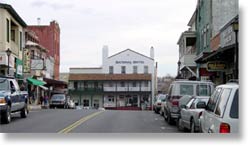 between tall golden grass, oak trees and thousands of acres of grape vines, and Plymouth close by is now famous as one of California's favorite places to go for a "Wine Tasting Tour". In addition to wine tasting, Jackson is full of unique gift shops, antique shops, restaurants, museums, parks, and historical sites like the Kennedy Gold Mine and the former home of Armstead C. Brown, now the Amador County Museum

Jackson's accommodations vary from campgrounds and RV parks to historical hotels and the finest Bed and Breakfasts anywhere.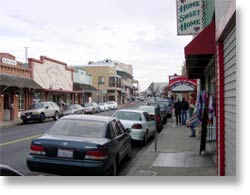 Historic Main Street, in the historic downtown, boasts forty-two buildings constructed after the fire of 1862, that burned the new gold rush town to the ground. These scenic "Civil War" era buildings have been well preserved and are a photographic opportunity as well as being an incredible wealth of historic information. You will find the sidewalks in and around Main Street have many bronze plaques laid into them with historic references to buildings and activities of days gone by.
Nearby for additional sightseeing and touring are the towns of Sutter Creek, Fiddletown, Martell, Drytown and Plymouth and of course the popular, seasonal Daffodil Hill. If you desire plush forests, mountain streams and lakes head up "All Year Trans-Sierra Highway 88" to the high Sierra for a multitude of recreational opportunities.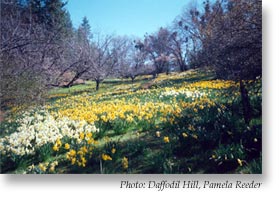 Jackson at the heart of the Mother Lode will be one of your favorite stops, one you will return to again and again.

POINTS OF INTEREST
111• Historic Walking Tour
111• Kennedy Gold Mine
111• Chaw'se Indian Grinding Rock State Historical Park
111• Cemeteries
111• Gold Mines
111• Daffodil Hill
111• Amador Flower Farm
Things to Do

Daffodil Hill, Amador Flower Farm, Hiking, Biking, White Water Rafting, Fishing, County Fair, Gold Panning, Camping, Antique Shopping, Shopping, Fine Dining, Golf, Wineries, Casino, Rodeos, Self Guided Walking Tours, Museums, Theatres, Swimming, Sailing, Waterskiing, Skiing, Historic Sites, Rock Collecting
Newspaper


Radio Station


| | |
| --- | --- |
| KNGT 94-3 FM | 209-223-0241 |


Transportation
Airports


| | |
| --- | --- |
| Stockton Metropolitan Airport | 209-468-4700 |
| Sacramento International Airport | 916-929-5411 |

Railway


| | |
| --- | --- |
| Santa Fe Railway | 800-825-1654 |
| Southern Pacific | 800-822-9601 |
| Amtrak | 800-872-7245 |

Bus
Local Transportation


| | |
| --- | --- |
| Amador Rapid Transit | 209-223-2877 |
| Serving Jackson, Sutter Creek, Pine Grove, Amador City, Plymouth, Rancho Murieta with a connection to Sacramento. | |

Highway Conditions


| | |
| --- | --- |
| Caltrans | 800-427-7623 |
| California Highway Patrol | 209-223-4890 |

Facts & Stats

Population:

3,800

Elevation:

1,200 feet

County:

Amador County

Climate:

Winter: 35 - 66 degrees
Summer: 55 - 97 degrees
Rainfall: 20 inches annually
Snowfall: 0